Tiempo de lectura:
4
minutos
Con la muerte de la religión, entendida como creencia fundamental de una sociedad cerrada y la apertura pública ha surgido toda una industria de la autoayuda. Ésta, mas o menos laica, más o menos científica, viene a sustituir muchas de las funciones que antaño la religión cumplía. El confesor se transforma en psicólogo, los 10 mandamientos se convierten en los 7 hábitos de la gente altamente efectiva; la recompensa ahora es peor, antes era ir a los cielos y arrobarse ante la poderosa cara de Dios, y estar en un estado de beatitud extrema, ahora nos conformamos con una jornada laboral de 4 horas y algún daikiri. Esto no ha sucedido sin crítica, las posiciones respecto a la misma varían desde la legitimación científica de las mismas (véase el último Punset) o la crítica , ya que de manera correcta muchos han identificado que conceptos religiosos se están colando bajo apariencias seculares.
Esto se ha infiltrado en esa nueva cultura oral que son las redes sociales, ya sea que éstas reproducen la hegemonía cultural o que produzcan sus propios contenidos, éstas imágenes tan näives que señoras de 50 años, peluqueras y el comercial de tu curro comparten parten de muchos de los presupuestos propios de la industria de la autoayuda. Y uno de los consejos más repetidos y populares, que se cuelan en la psicología popular es el «sé tú mismo»
Sé tú mismo
Y es que hay un problema con la falsedad y el autoengaño. Si estás todo el tiempo pretendiendo ser otro generarás fricción, tendrás que sustituir tus hábitos espontáneos por otros que no te son propios, y mientras te adaptas a ellos tendrás que usar tiempo y energía mental para habituarte a estos. Y además, cuando haces algo que no es común en ti lo harás de peor manera, ya que ni tendrás experiencia, ni interés, por lo que tendrás que obligarte a saber y a aprender. Vamos a imaginar que te obligas a hacerte youtuber, porque es algo muy popular, pero en realidad ni siquiera te gusta ver vídeos en youtube. Pues tendrás que forzarte a ver vídeos en la plataforma, y no lo disfrutarás, y mientras estás viendo esos vídeos porque es «lo que debo hacer» tu mente estará pensando en esa cosa que sí te gusta pero no estás haciendo, por lo que no prestarás la suficiente atención. Y encima, estarás compitiendo con otros youtubers que aman el medio, que se le pasan las horas volando editando, escribiendo guiones y cogiendo inspiración de otros youtubers. Básicamente negarte totalmente a ti mismo es como conducir un coche con el freno de mano puesto, no sólo vas a reventar el motor sino que todos los demás te van a adelantar. SÉ TU MISMO.
No seas tú mismo
Al mismo río entras y no entras, pues eres y no eres

Heráclito de Efeso (544 a. C. – 484 a. C.)
Y es que ¿Qué coño es ser tu mismo? ¿Son mas auténticos los hábitos que te inculcaron tus padres, la escuela y la publicidad que los que decidiste adoptar por tu cuenta? Tú mismo es un significante vacío, una palabra abstracta y amplia, que suena muy bien, que crea consenso pero en el que se cuela cualquier cosa. El delincuente está siendo él mismo, el drogadicto también y así el fanático, todos están siguiendo los impulsos más viscerales que en ellos se hallan. Es una estupidez, ya que hay industrias enteras, como la publicidad, que sólo en españa factura más de 12.000 millones de euros al año, entregadas a manipular tus impulsos más elementales para que sean teledirigidos en mayor disfrute de sus clientes. No puedes confiar en el tú mismo ya que esta investigado, hackeado y reprogramado por las fuerzas vivas de la sociedad. La libertad se haya en lo que uno construye, crea y planea, no en lo que te dan, que como todo regalo, es envenenado. NO SEAS TÚ MISMO.
To be, or not to be, there´s the point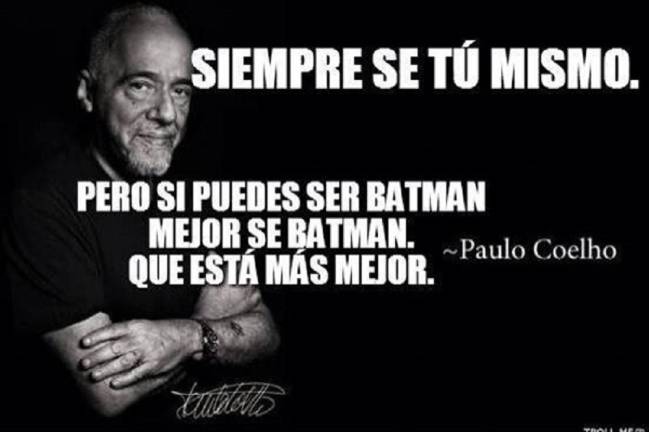 Vaya lío ¿No? ¿Qué hago? Pues entender que he jugado con una aparente contradicción, ya que como hemos dicho antes, el uso del «tú mismo» es tan vago y amplio que cabe cualquier cosa, lo que está claro es que necesitamos detectar nuestras pasiones, fortalezas y habilidades y usarlas como motor de nuestros empeños vitales y al mismo tiempo, no conformarnos con lo dado (un término muy usado por Eugenio) sino participar del actor creador y libertario de avanzar a nuevos límites, crear nuevas habilidades, adentrarnos en nuestros miedos y aversiones y comprobar que no son para tanto, incluso comprobar, cómo pasa en muchas ocasiones, que nos gusta, que el hábito hace al monje, tanto el hábito de vestir como el hábito de hacer así que SÉ TÚ MISMO Y NO SEAS TÚ MISMO.